We went to see the spectacle Odysseo Friday night. It's inspired by Cirque du Soleil but with horses as the stars of the show accompanied by acrobats and aerialists. Not surprisingly Quebecers have conceived this show, as well. The performances are exciting and ethereal with live music and surprising special effects. At the beginning of the show, horses race in from the sides. But later, they seemingly descend from a hill at the back of the stage. The finale includes 40,000 gallons of water in the foreground of the performance area with horses and acrobats racing through at blinding speed. Nothing like trick riders flipping on and off horses with water splashing all around, adding to the thrill.
My family had horses when I was growing up, and we rode frequently. We had an Appaloosa appropriately named Raffles that my father won in a raffle at a rodeo in Fallon, Nevada when I was twelve. We also had the most wonderful Quarterhorse/Morgan named Tammy. She was unflappable. We bought her from a girl named Pam. When we picked Tammy up, I remember Pam crying. My dad explained she  was going off to college, and her parents made her sell her horse. I wish I could tell her how much we loved Tammy and how well she was cared for. Unbeknownst to anyone, Tammy was pregnant when we bought her. Some months later, she had a filly named Kandie. My dad mated Raffles and Tammy twice and we had another filly named Dixie and a colt named Arapaho. If that wasn't enough we had a pair of Shetland ponies and two other horses we boarded for friends.
I was surprised to see the mix of horses in Odysseo. Sixty-five horses rotate in and out of shows with 40 per show. Among the 65, there are 18 stallions and 47 geldings. No mares as you can imagine why with stallions. There is one Appaloosa, Lippizaners, Dutch Warmbloods, Arabians, Quarterhorses, a Paint, and some breeds I'm not familiar with. Unfortunately but understandably, we couldn't take photos other than in the VIP tent with the boutique.
Last year our nine year-old cat Maggie died of intestinal cancer, leaving our twelve year-old Snowshoe mix Micha (short for Micheline) behind. A month or so later, we adopted a tabby from a rescue group. We kept his name Sven, which came from the reindeer in Frozen. Sven quickly ingratiated himself with Micha. I always call Micha the perfect cat. She has big blue eyes, a beautiful fur coat, and most importantly, nothing rattles her. New kitten–no problem. However, a year has passed, and Micha is a year older. She is not nearly as interested in playing as much as Sven. Worse, he is now four pounds heavier than she is, and his method to encourage her to play is to tackle her. Needless to say, this makes her very unhappy. We decided Sven needed his own kitten. We adopted another tabby from the county animal shelter. Her name is Tabitha–the name she came with. But oh no, the minute I brought her into the house, Sven smelled her and became stressed immediately. He hid in the basement for three days. When he finally came out, it was to corner and hiss at her in a very scary way, over and over. When I took Tabitha to the vet for her check-up and told the vet what was happening, she recommended a Feliway collar, which is impregnated with feline phermones. For $20.00, Dr. Kinney saved a kitten. Within 24 hours of putting the collar on Sven, he was back to his big, sweet, lovable self. Tabitha was playing with a toy in my office while I was working. Sven came to the door and after watching for half an hour, he tentatively joined in, then wholeheartedly. He saw the light. This kitten was fun, and he had a playmate who wanted to play as much, if not more, than he does.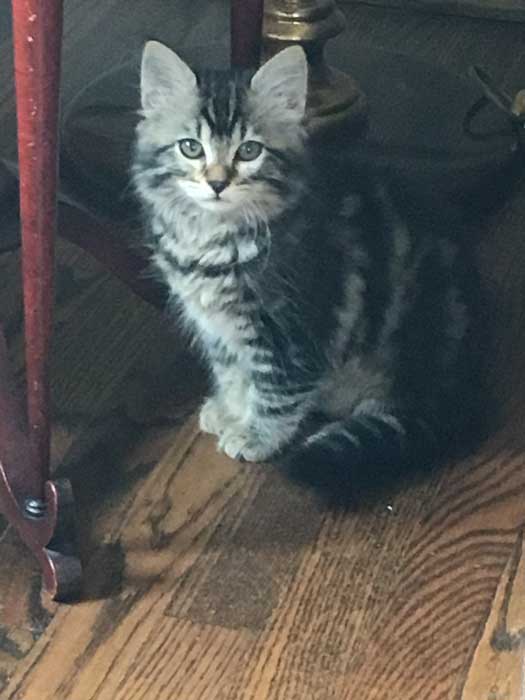 I'm headed to my first ever family reunion next month. My grandmother, Kathryn Kerler née Grieser was number twelve of thirteen children born to German Mennonites. Every few years there is a Grieser family reunion with around 100 descendants of all those kids. My Aunt Lee turned 85 years old in April and wanted to go back to the state where she was born and hasn't seen since she was twelve. I and her youngest daughter Jacquee are accompanying her to the Lied Lodge in Nebraska City, NE where this year's reunion is being held. The featured activity is an auction with the proceeds going to help pay for the next gathering. Aunt Lee and Jacquee are bringing Oregon-themed items, and I've made a quilt. It's a simple quilt, that's all I had time for, made from homespun cottons that I won at a quilt show. Homespun seemed like the perfect fabric for a family reunion. I quilted each row in a different quilt pattern with a variegated King Tut thread. I like that the quilting shows well in some squares but is more subdued in others, depending upon the colors and the pattern.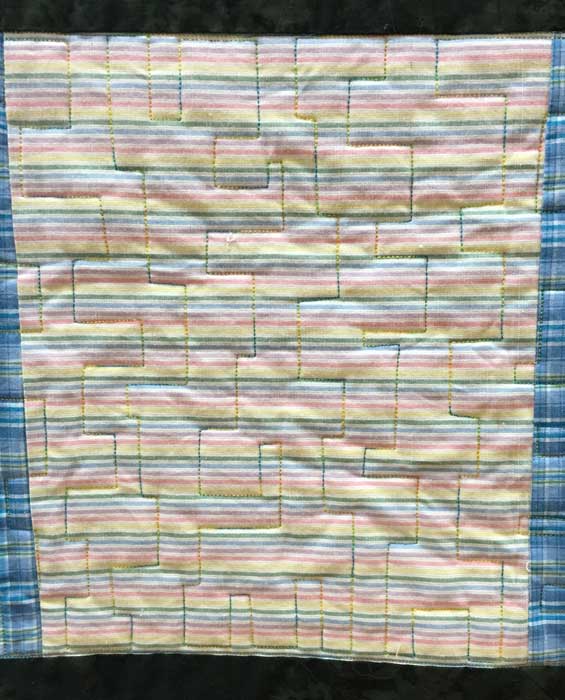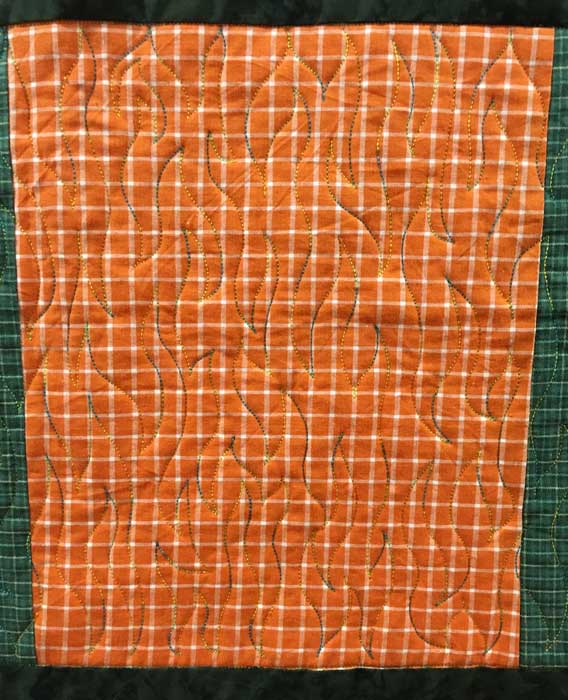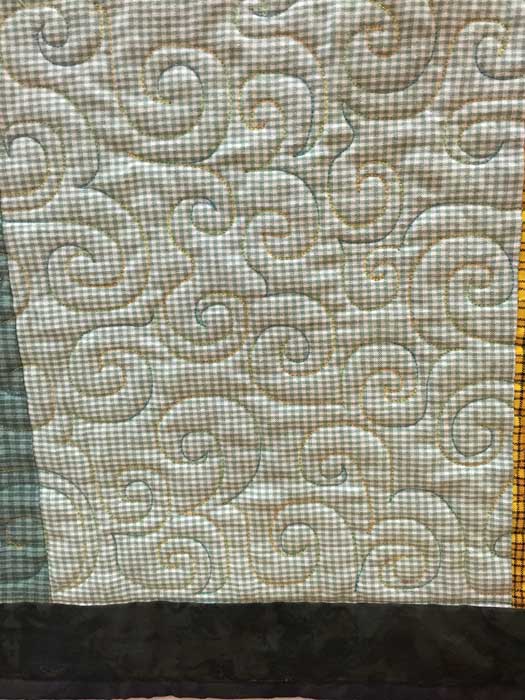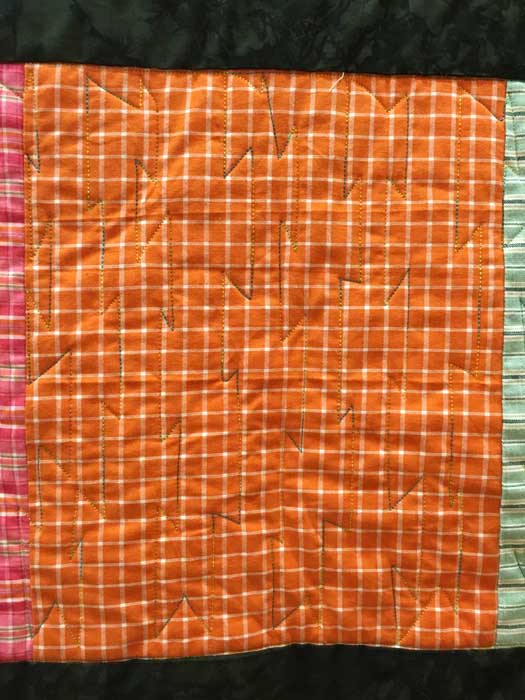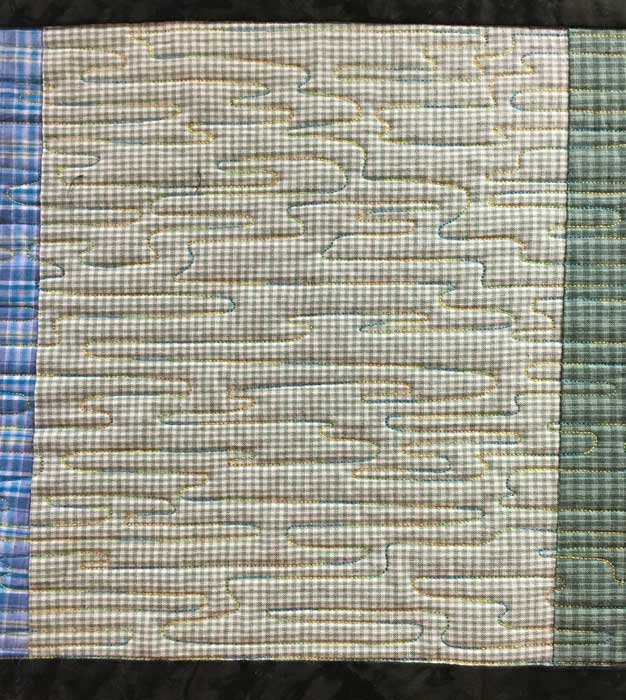 Speaking of quilts, minutes before leaving for Odysseo, I received a wonderful e-mail from the International Quilt Festival/Houston. My quilt Z is for Zinnia, C is for Cosmos was not only accepted but it has been selected to be possibly featured in the publication International Quilt Festival: Quilt Scene. I have been asked to send the quilt early, which I did on Saturday, so the magazine staff can photograph it. After working for a quilting magazine for seven years, I know that sometimes articles and photos do not make the final cut, depending on page layouts. So this may be a situation where "I'm honored to be nominated," but I"m excited nonetheless.
It's been a great weekend: great show, contented cats, and some quilt excitement!