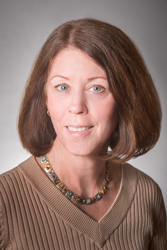 Artist, Quilt Judge, and Writer
Kathie grew up in Portland, Oregon before it became known as a creative hub for talented chefs, start-ups, and sustainability ethos. She had worked for fifteen years in banking when her late spouse's career took them to Montana, Montréal, Paris, then back to the US twelve years later. In 2000, Kathie returned to her hometown and purchased a 1909 home, which she renovated over an eighteen year period. At the beginning of 2018, she married, sold her vintage home, and moved a short two miles away to a smaller house with a smaller yard which gives her more time for fiber art. Among her favorite activities outside of art are travel, sports, and spending time at the Oregon coast, which she missed greatly when she lived elsewhere.
Kathie credits her mother, Meredith, who taught her to crochet at age four, with sparking Kathie's life-long interest in fiber. As a self-taught hand embroiderer for many years, with crewelwork her favorite form of embroidery, Kathie began quilting in 1988.
She is an award winning quilter who has completed rigorous courses in design and embroidery through London City and Guilds College of London, England and at the Lesage School of Needlework in Paris, France. She exhibits her work at various shows and galleries. In 2009, she was commissioned to create the Clackamas County Oregon Sesquicentennial Quilt, which hung in the state capitol and now has a permanent home at the county's Development Services Building in Oregon City. In 2010 The Rocky Mountain Quilt Museum awarded Kathie first place in the Evolutions challenge and a solo exhibition the following year. More recently, her first place small wall quilt earned  first place at the Spring Paducah show and was chosen as the cover quilt for the 2018 AQS wall calendar.
Since 2002, she has judged and juried numerous regional and national shows. As a National Association Certified Quilt Judge, Kathie is a Qualified Instructor for the Two-Day Introduction to Quilt Judging Seminar.
Kathie has written articles for several publications since 1995. As a contributing editor for American Quilter magazine for seven years, she wrote and contracted over 100 articles featuring techniques, patterns, and interviews. Currently, she freelances.