Quilt Judging Introduction:
In 2002 I completed a four-day workshop on judging quilts and wearable art presented by the Northern California Quilt Council and soon began judging. In 2008 I became a Certified Judge through the National Quilting Association (NQA), now the National Association of Certified Quilt Judges (NACQJ), whose self-study requirements are rigorous. They include submitting in-depth paperwork on judging problems and techniques, which must pass a panel of three certified judges, followed by passing a panel interview and mock judging demonstration with another three certified judges.
To fulfill the continuing education requirement for certified judges, I regularly attend programs and workshops to learn new techniques that arise and add to my design knowledge and skill. In 2015 I became a Qualified Instructor through NACQJ to teach the association's Two-Day Judging Seminar.
To date, I have judged over one hundred fifty shows at regional and national venues, having been invited back by many show organizers. I have also juried large regional shows and served as the judging floor coordinator several times, so I thoroughly understand the entire judging process.
As a judge, my goal is to encourage makers through positive and constructive feedback. As such, I prefer the elimination method to the point system when evaluating, because comments rather than points give each entrant feedback specific to their piece.
Positive and constructive comments cover both design and workmanship. Design includes the quilt top and the quilting design and how it relates to and enhances the top. Workmanship is the construction of the quilt top and how well the quilting is executed.
The purpose for positive comments is to recognize and encourage entrants. The goal for constructive comments is to provide information on how to improve future work. To that end, I encourage volunteers to assist with judging to better understand and see it is about encouragement not criticism.
During judging, I strive for professionalism and objectivity. Design and workmanship are the two players in a quilt's success. Ultimately, I choose winners based on the degree of difficulty and complexity of design. For degree of difficulty, I consider how challenging it was to construct and quilt a piece. Complexity of design concerns the number of decisions the entrant made to create a piece.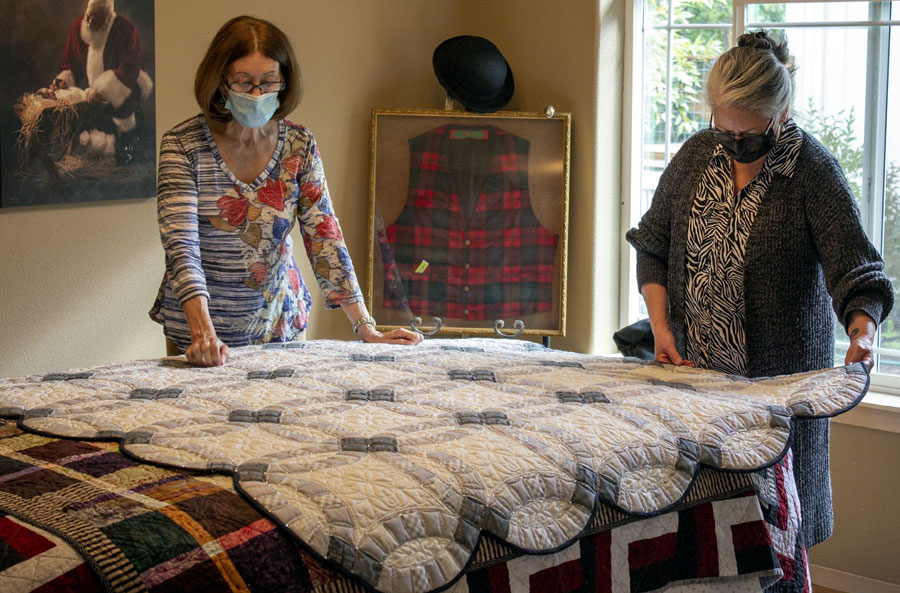 Ideally, allow four minutes per quilt for five to six well-considered comments per piece. If there are 110 quilts, that equals 7.5 hours not including Best of Show selection and special awards. Judges may comfortably evaluate up to 125 quilts in one day but with fewer number of comments. Organizations should consider their goals. If educational feedback to entrants is important, more time is necessary.
I judge solo or in a team with one to two other judges. Organizations should take into consideration that one judge works faster than a team. A team needs to agree on the wording of comments provided to scribes, and show organizers should plan the time schedule accordingly.
If your group is considering a judged show, I encourage you to contact me. I have heard many times from formerly non-judged shows that after they began judging the quality of subsequent shows noticeably improved as a result of feedback to entrants. I'm happy to assist with category definitions, the judging form, judging floor set-up and any questions you may have.
Judging Services:
Judging fees are $400.00 per day. Additional costs are noted below.
Travel Costs:
Local judging includes the current IRS mileage to and from the venue and meals.
Distance travel includes airfare, the current IRS mileage to and from the airport, airport parking, meals and incidentals, and a private, non-smoking room, preferably at a hotel. Please note I have dietary restrictions best handled by a per diem for meals. If they are provided by the sponsor, I'm happy to send a list of restricted items.
Save