On the final day of the workshop, we did Thermofax screen printing with Colorhue concentrate in shaving cream. Barbara had a number of screens ready to go, as well as some of her own designs which we could burn into screens. We also had the option to bring our own designs. Once everyone had burned their screens, we mixed the shaving cream/concentrate and printed on a practice scarf.
Next we stenciled using Lumiere over Colorhue silk dyed fabric. Stencils were created from freezer paper. While they don't last long, not more than three times, I really liked my stencil design and the way the Lumiere looked on the fabric, enough that I want to work with this technique and design further. I wasn't particularly clean with my Exacto knife cutting, but the stencil still printed well, which is encouraging.
The last dying experiment we did involved iridescence. When you dye and overdye repeatedly with Colorhue, the color takes on an iridescence. And when I say overdye, I mean you put the fabric into one dye after another, over and over. I don't think you can overdye too many times based on my experience. The first photos demonstrate dunking the fabric into a dye, wringing it out, rinsing in clear water, then dying again. Each time you overdye, you may only put part of the fabric into a particular color to achieve a mottled effect. Interestingly, yellow acts as a blender of all the other colors. Repeating this process many times results in a richer color.
When you are satisfied with your color, squeeze between a towel, then iron dry.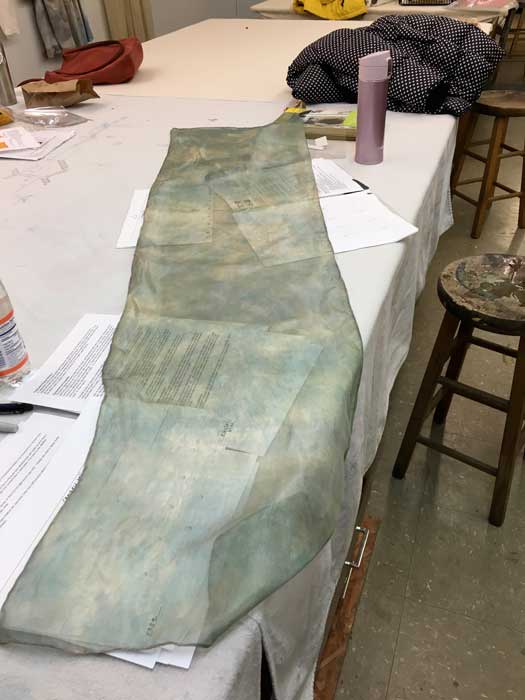 Here are the finished scarves of the five students and Barbara. Mine is the third from the right and Barbara's is the green one on the far right.
The final image shows two scarves done by Michael. The red scarf was dyed using seven of the ten Colorhue colors. The ones he didn't use were brown, black and canary yellow. Michael dyed, and dyed, and dyed many times over for this truly deep hue.
The black scarf he did by scrunching up a scarf and putting it into a pan of black and leaving it for a number of hours.