I've been completely remiss in posting to my blog having been caught up in a trip to the United Kingdom, home maintenance, working on landscaping, stitching Christmas stockings, French studies, and working on the Poppies and Periwinkle quilt that I swear will never be done. Hmm, looking at that list tells me why I haven't made my blog a priority. But I'm back in the game starting with my most recent quilt show news. Then I'll work back and post pics of my UK trip, which was pretty wonderful.
I began a Baltimore Album quilt somewhere around 15 – 16 years ago. The top was complete save a single floral appliqué in the border, but then it sat in a drawer all this time. It's been my one and only UFO, so I decided it had to be finished. The impetus was to enter it into the Northwest Quilting Expo here in Portland, Oregon. I wasn't judging this year which gave me the opportunity to enter. I started it simply because at that time I had wanted a traditional red and green Baltimore Album. The only tweak I made was to include purple accents to make it my own. The category I entered was large appliqué and I received 3rd prize. I'm quite pleased to win award because when I planned the quilt I never intended to enter a show.
I left for the United Kingdom on August 1st so didn't have much time to quilt it. My original plan way back when was to hand quilt. While I can quilt by hand, I don't do it regularly so am very slow. Instead I decided on a simple machine quilting design of bubbles around the appliqué then cross-hatching in the background. I practiced bubbles for two weeks and became proficient. But then I realized I wouldn't have time to quilt before I left. So for the first time ever, I had someone else do the quilting. She is Cory Allender, a friend and professional quilter, I know through judging for her guild in Las Vegas. She decided to stitch alternating straight lines in each block because she thought it suited the quilt better than cross-hatching and did a great job. A positive experience in all.
When I returned from the UK, I received the quilt back and finished it off. I added a variegated trim which I hand-couched next to the binding. When I picked up the quilt today, I received the judges' comments and here they are. For those who have never had their quilts judged, this will give you an idea of the types of comments you may receive. I was fortunate to have all positive comments with none constructive.
Delectable color palette
Marvelous hand appliqué technique
3D embellishments are very well handled
Edged binding treatment is very well handled
Quilting motifs are very well chosen and use of alternating line patterns in blocks separates them nicely
Here is my quilt with the ribbon: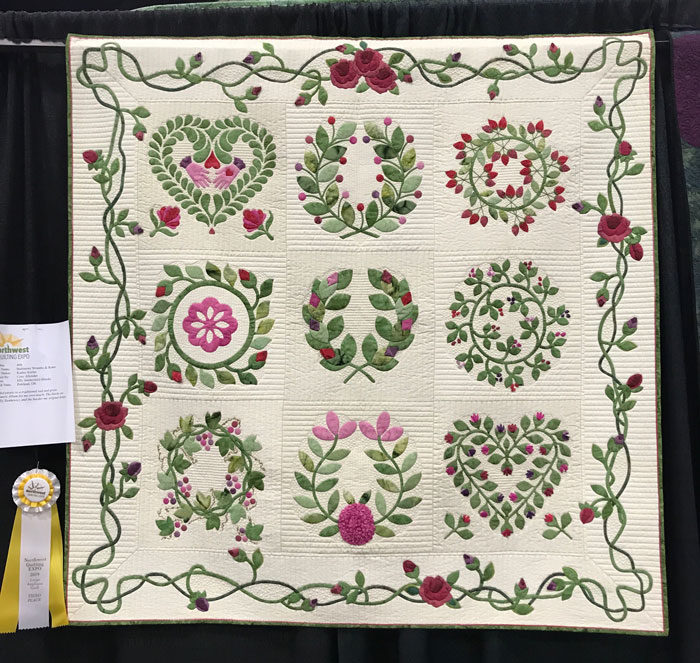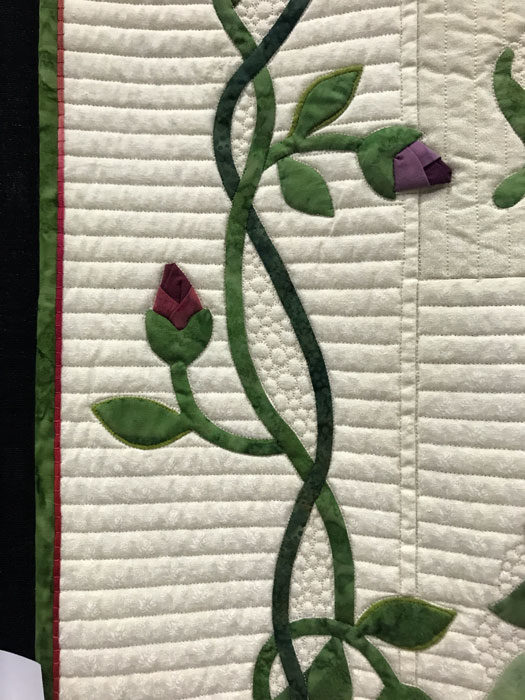 First place was won by Janet Stone, who has received many awards including Best of Show for this quilt.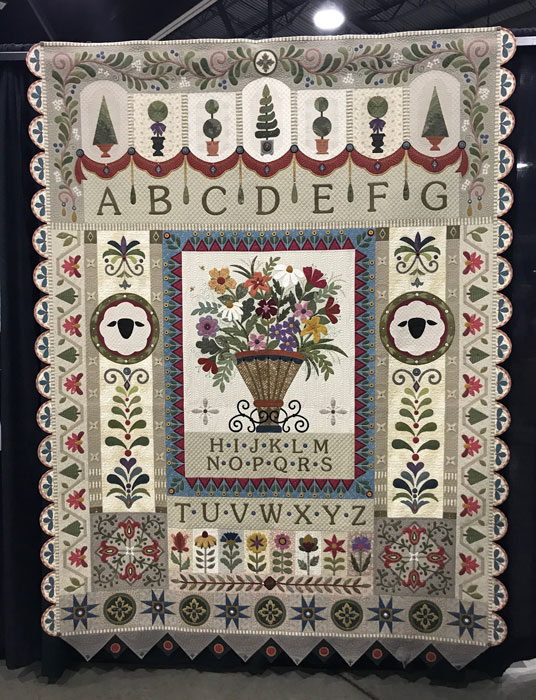 Here is second place by Audra Rasnake.