I'm participating in a new challenge with quilters from the US, France, and Japan. There are 90 quilters, with 30 from each country. Each quilter creates a 50 cm quilt based on one of 30 poets, which means each poet will have three quilts. I chose Emily Dickinson whose work I adore. We were asked not to take the easy way out and use text from authors' poems.
I reread some of Dickinson's work and looked over her biography. In her later years, she rarely left her home, becoming known as the Moth of Amherst for her tendency to dress all in white and flit from house to garden. I've decided upon a composition featuring a beautiful white moth, created from iridescent and shiny fabrics flying above a patch of hollyhocks.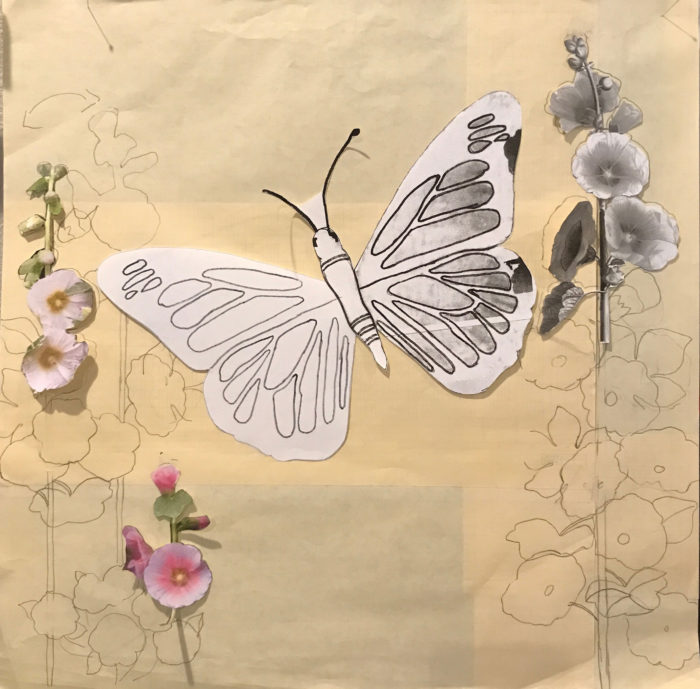 I started with a sketch in Photoshop Elements for the size and placement of elements. Then I moved to pencil and paper for the full-size templates. I used my new Led drawing/tracing pad and have to say how much I like it. The thin pad has three light settings and is much larger than my 20 year-old light box. I have fellow student Shannon Hicks to thank for letting me use hers in our final Hollis Chatelain workshop last June. I liked it so well, as you can see, I bought one for myself. Pictures of the information are below for anyone who might be considering one.