Last weekend I judged 178 quilts with Gerrie Thompson for the NW Quilting Expo which took place this past Thursday through Saturday in Portland, Oregon. The show began sixteen years ago, and I have judged it many times starting with the second year. The show as gotten better and better–noticeably, with entries now coming from a variety of foreign countries. This is thanks to Shellie O'Donnell who founded the show along with quilt shop owners Geri Grasvik and Laura Wallace-Dickson. Shellie, who has been ill for the past year, passed away during the weekend of judging. Her family and friends, notably Tami Cafall–best friend of 31 years, worked hard during a very difficult time to do Shellie proud, knowing how important the show was to her. Next year will be in memory of Shellie.
Following are some of the winners and some of my favorite quilts. There were quilts that didn't win awards, only because competition was so tight in some categories. It's always disappointing not to be able to recognize deserving pieces.
First up is Best of Show "Extraneous Female Escapement Mechanism" by Rebecca Prior, quilted by Jackie Brown. I have to say how much I admire this quilt. Such creativity, and appliqué is my favorite technique.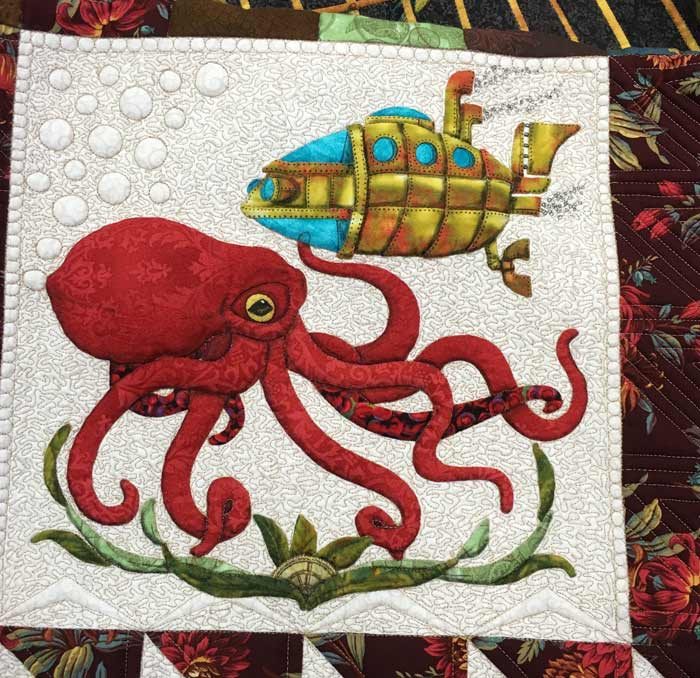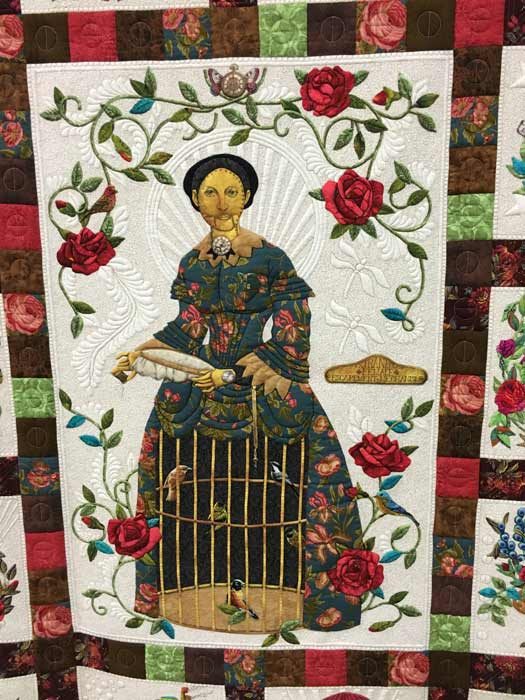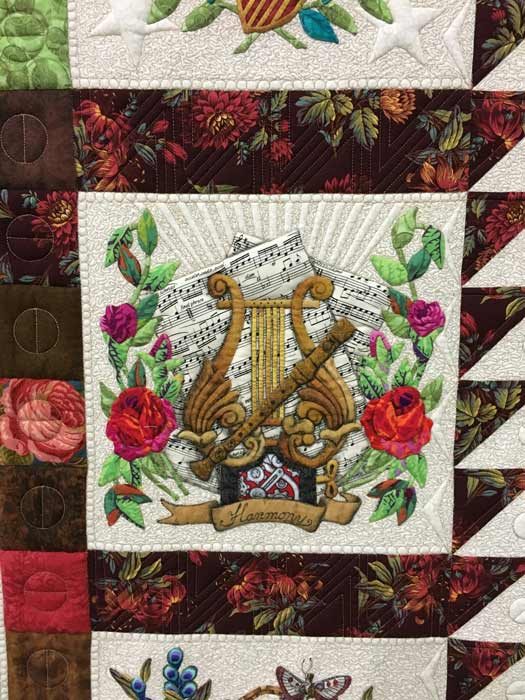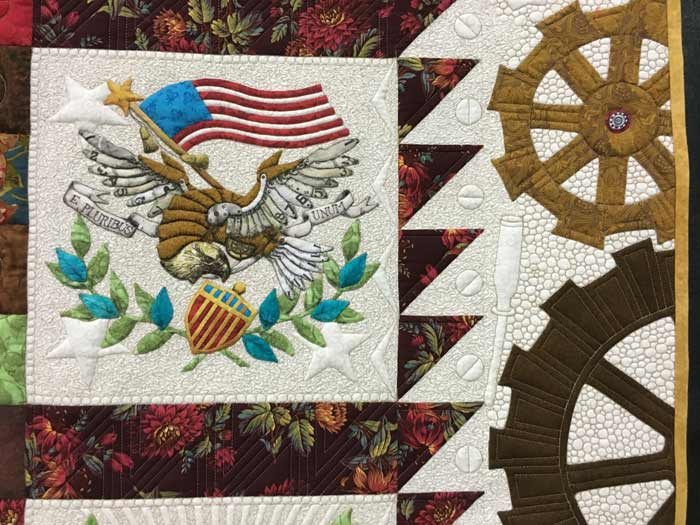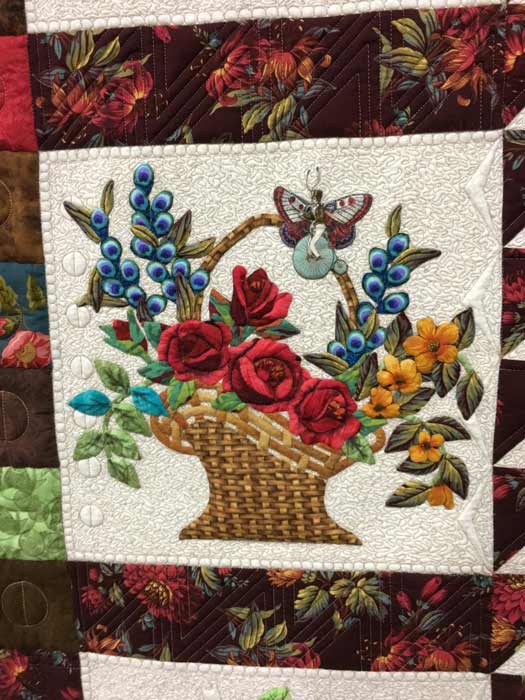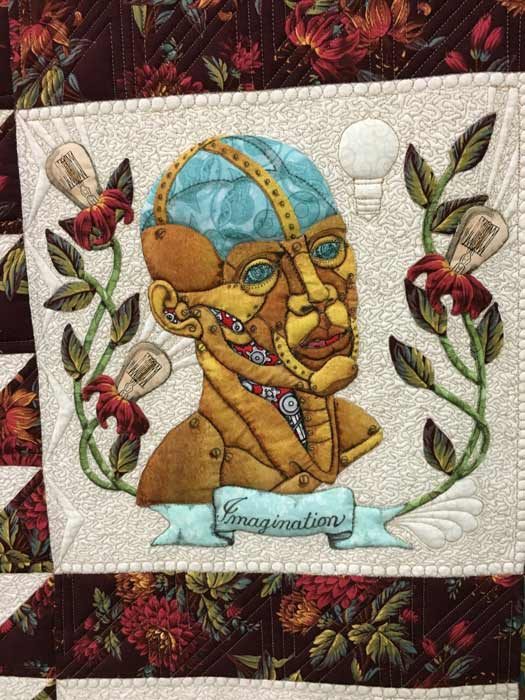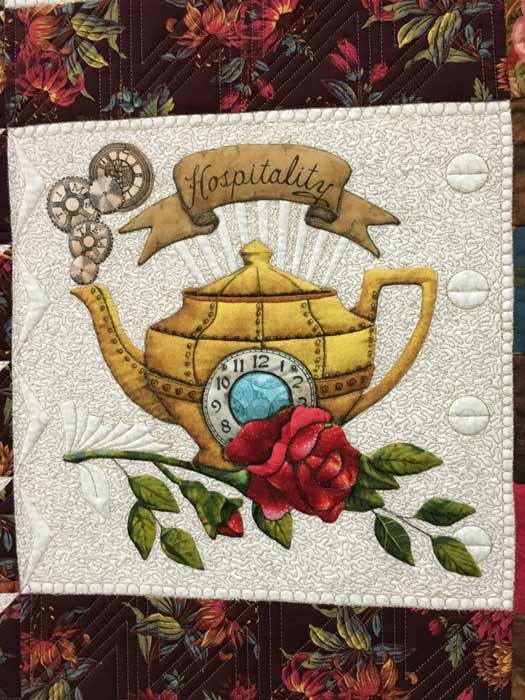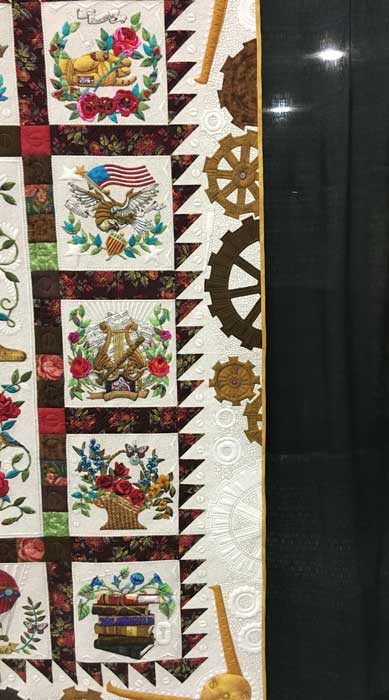 Here is my Judge's Choice. I had five choices set aside by the end of judging. I selected Ann's quilt, because I admire so many things about it, especially the embroidery and embellishments.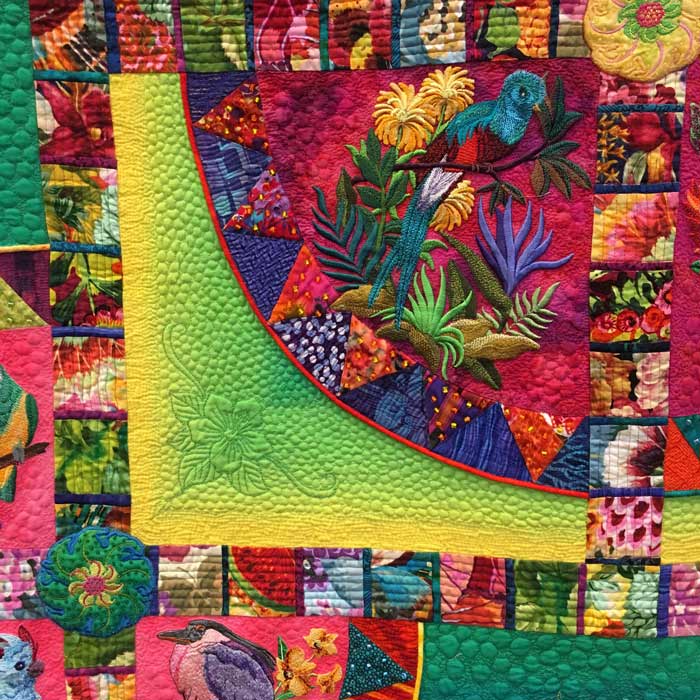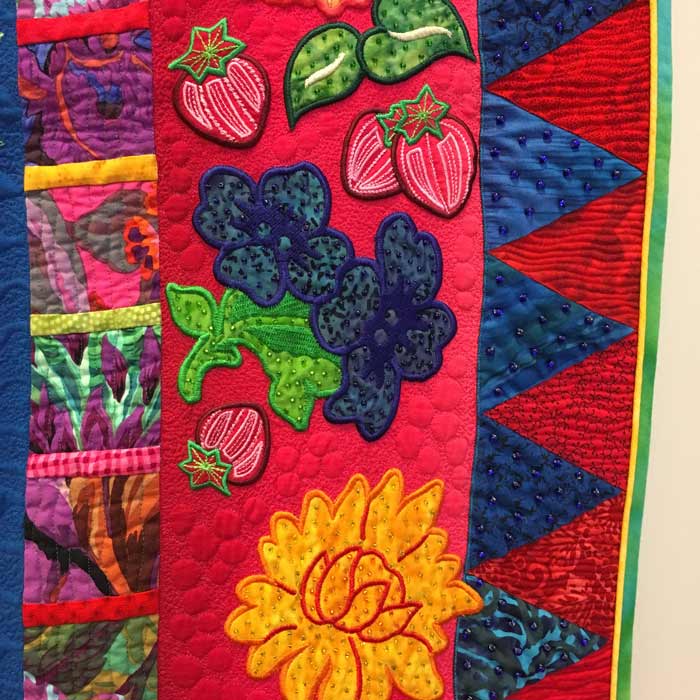 This is Gerrie Thompson's Judge's Choice.
Note how the green glows in the background and is a contrasting complement to the woodpecker's redhead.
Here's another great quilt by by Ann Horton, machine felted and hand quilted.
Following are more favorite pieces:
The quilt below was received the evening after judging concluded. The entrant was encouraged to enter it again next year.
This winner features beautiful dimensional appliqué and beadwork.
Sonia Grasvik worked with me on an article when I was with American Quilter magazine. I'm always impressed with her work and wasn't too surprised she was the creator of the following two pieces.
Judy is a member of Cover to Cover Quilters whose members had many pieces in the show. Members read a book then react to it through their quilts.
Pat is another Cover to Cover Quilter with this piece done after reading "Gone With the Wind."
The title is important to understanding this quilt. I really like the abstract image.
Here's another effective modern quilt.
There was only one entry in Wearables, but this one was stunning. I wish I could have photographed the back and inside. She used a Butterick pattern. Her details were wonderful and execution impeccable.
I'll follow with more quilts in posts to come.
Save