Before I launch into another blog post about the International Quilt Festival, other good things have been happening. I received a yes to my submission from the Road to California Quilt Show for my quilt "Z is for Zinnia, C is for Cosmos," the same quilt that won an Honorable Mention in Houston.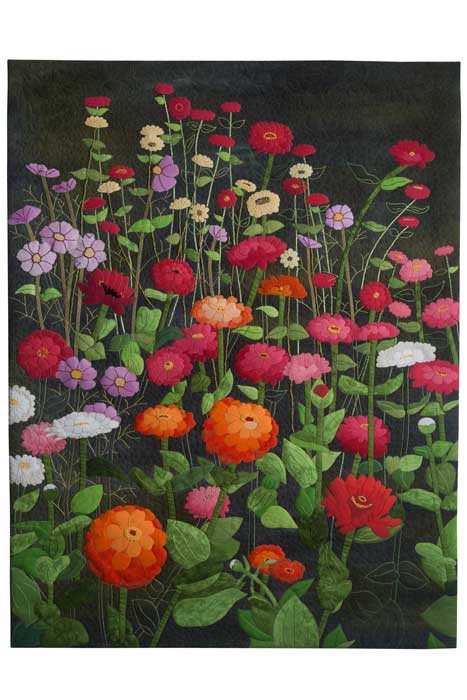 Show dates are January 19 to the 22nd, 2017 with judging the 16th and 17th. I'm attending the show this year for the first time and traveling with Country Heritage Tours, the same company with which I went to the Houston show. The Road to California itinerary is a great one for me as it starts in San Diego, where my son Michael lives. I'm going a couple days early to spend time with him. Then the week-long trip begins with trips to quilt shops and studios, Old Town Temecula, and on to the show in Ontario. I'm taking two classes. The first is an all-day long-arm class and the second is a half-day Fabric Printing class. I'll also be meeting a fellow National Association of Certified Quilt Judges colleague, Linda Rasmussen. The trip should be fun, relaxing, and interesting.
Next up, I completed a quilt for the Go Red For Women quilt contest sponsored by The American Heart Association. I did it in less than 30 days, which may not seem like much, but I was sick with a cold and sinus infection for two weeks of that time. I managed to send it off on the postmark deadline. I used some of my Zigzag Pizzazz techniques on the hearts. We were asked to explain what served as inspiration for the quilt. Unlike some calls for entry, the artist statement was important to the role it plays in The American Heart Association's mission. Here's what I wrote:
"The recent release by the American Heart Association regarding the benefits of cycling on your heart health speaks to me. My late husband and I enjoyed cycling whether it was around our town or on long distance trips, such as RAGBRAI, the Register's Annual Great Bike Ride Across Iowa—the first of it's kind in the nation.
He passed away from a heart attack while we were on a cycling trip in New Mexico. While this was the most difficult experience of my life, we built many great memories through cycling, and it's something I continue to do this day. I encourage my friends and family to get out and celebrate their health in whatever exercise feels good to them. For me, it's cycling."
I used the machine embroidery technique of drizzle on the smaller 3-D heart and free-motion satin stitch beads around the larger heart in the detail above.
I'm delighted to say I received notice today that the quilt was juried into the exhibition along with a quilt honoring my grandmother, Kathryn Kerler, shown below.
Here's what I wrote about it:
"I was eighteen when my grandmother called to tell me my dad was in the hospital. My parents had separated earlier in the year, and he was living with her. Dad had been home alone, realized he was having a heart attack and called an ambulance. Shortly after arriving at the hospital, he had a second heart attack. My dad did not look like a heart disease candidate. At 42, he was fit and trim and to this point, our family had no history of heart disease.
I still remember my grandmother crying. With the naiveté of youth and the belief your parents would always be there, I couldn't imagine my dad would be anything but fine. But through experience my grandmother knew how hard life could be. Dad was her only son, and families lose dads and sons at all ages.
My grandmother's name was Kathryn Kerler, and I'm honoring her as a caregiver. So often we think of the heart patient and forget about the importance of those who assist in patient recovery and the time, effort, and care they put into the one they love. But my grandmother was used to challenging situations.
She grew up in a German Mennonite family. After graduating school in the eighth grade, she lived with an older sister, helping to take care of her children. Then when my grandmother married she worked and ran a farm with my grandfather. Grandma gained the spirit of giving and self-reliance through these experiences. With the advent of World War II, my grandparents made a life-changing decision, leaving Nebraska for Portland, Oregon where my grandfather worked in the shipyards. With only a limited education, my grandmother had few employment options. First she was a hostess then a barmaid. For many of us these life changes would have been too challenging. But my grandmother embraced life giving generously of her time, spirit, and energy to others. She always greeted you with a big hug and a kiss. I still remember trying to rub the red lipstick off of my cheek.
My dad was lucky. After a quadruple bypass followed by recovery under my grandmother's care, he worked for another twenty years until retirement. When her health failed, he was there to take care of her."
Speaking of Zigzag Pizzazz, I was delighted to give a workshop on these machine embroidery techniques to the Westside Quilters' Guild last Saturday, December 3rd. I had an enthusiastic group of five. All of the techniques were knew to participants, and while some are easy, others are challenging. I was impressed with the positive attitude of everyone. We began with satin stitch bars, progressed to drizzle, then tackled the always fun satin stitch beads, couching, and sheer transparency. One participant painted and another did dimensional work. Here are some examples of work in progress:
I received great feedback from the workshop coordinator afterwards, which I greatly appreciate. Next blog post, back to quilt photos from Houston.